Valerie Marsh, Arizona, USA
---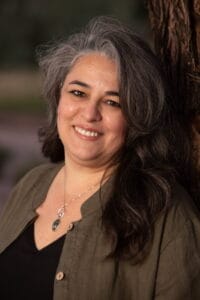 Valerie Marsh has worked almost exclusively in corporate training for over 25 years within a range of highly regulated sectors, such as automotive, post-secondary, narcotic management, finance, and cannabis. She holds a degree in Psychology, is a Certified Professional Training Manager, and a certified SENG Model Parenting Group facilitator.
When she decided to adopt a baby girl from Guatemala in 2000 as a single parent, everything she was told indicated a high likelihood this third-world orphan would have of some type of serious physical, mental, and/or emotional disability. What no one prepared her for was an intellectually voracious child who would teach herself to read at two, shun the traditional childhood things like cartoons and dolls for Bill Nye the Science Guy and an extensively curated rock collection, and who would pass not only the required entrance exams but an additional one-on-one interview with the Dean to get accepted to college at twelve.
In the early 2000's there were no Facebook groups, workshops, or even many books in the local library to help navigate the challenges, intricacies, joys, and frustrations of raising a highly-profoundly gifted child (I mean, YOU try to find an age and reading level appropriate book for a five-year-old reading/comprehending at a high school level!), so just as she had been doing in the corporate world for years, Valerie began researching how to best support and advocate for her daughter.
This twenty-two year journey has led her to amazing schools like The Sycamore School in Indiana and The Roeper School in Michigan; to meet visionaries like Annemarie Roeper and Dr. James T. Webb; and to begin speaking publicly at conferences to help other parents and educators better understand neurodivergence, the difference between high achieving and gifted, and twice exceptionality (in addition to being identified in the highly-profoundly gifted range, her daughter has also been identified with sensory processing disorder and received formal diagnoses of autism and central auditory processing disorder).
Her daughter is now at ASU majoring in Conservation Biology and Ecology working toward the dream she's had since age six to work with bats, taking conversational Spanish and Korean – languages she taught herself "for fun," and working at the Phoenix Zoo.  She's her Mama's biggest teacher and for that Valerie is forever grateful.